Millennials and Gen Zs are Changing the Retail Game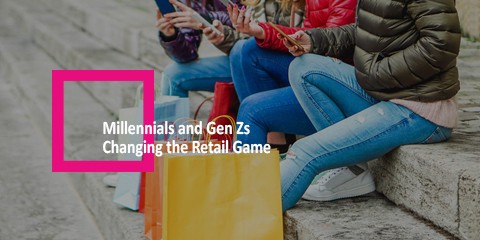 Experiential retail has been around for many years, but it has not been the be-all and end-all with regards to brand preference. However, it is important to the Millennials and Gen Z's.
What is experiential retail?
With the rise of online retail, physical retail stores are having to up their game to ensure they are not only offering products but also a good customer experience – something that cannot be replicated online, something that draws the consumer to the store, despite the ease of online shopping.
With digital and social media becoming larger and larger, so does word-of-mouth marketing. Word-of-mouth marketing is a risky game, as it can go either way, but it is affordable and effective. Experiential retail aims to give consumers something that makes them feel good, something that provides a good experience and gives them something to talk about in a positive light.
What kind of experience?
The experience needs to go beyond the consumer's expectations of the brand – for example, if you sell shoes, you could ask for stories from customers. Not only does this give consumers the experience of wearing another man's shoes, but it also shows them how much it is possible to achieve or experience should you buy your brand of shoes. The Empathy Museum employed a very similar approach.
Another example would be Ikea's sleepover in 2011, in response to a fan group on Facebook – 'I wanna have a sleepover in Ikea.' The answer was to allow one hundred members of the group to spend the night in the warehouse. Through this campaign, 100 000 people joined the group. The incentives were massages and manicures as well as a bedtime story read to them by a celebrity.
The experiences could be anything that plays on the senses, testing the products, provides a bit of fun and anythinga in between.
How do I know what kind of experience I need to implement?
Insights. Insights. Insights.
Engagement and tracking of the psychographics, demographics, motivations, and behaviour are paramount – not only for experiential retail but for all sales in general. It is why consumer engagement is necessary, and not just the question of, 'can I help you?' but rather an actual conversation while helping the consumer. Research the name of your brand regularly, whether it be a search engine or social media – consumers usually have a lot to say on digital media, including concerns and bad reviews but this is more prevalent in certain industries.
It must be noted that concerns and bad reviews are not going to be the end of your brand; in fact, they are the best insights. Contact the consumer and give them whatever they were unimpressed by, of course. However, please do not stop there; use it in your strategy. Using what is admirable about your brand as the core of your campaign is not as fruitful as correcting your wrongdoings; yes, promote what you are known for, but the focus should be a negative review and how you are going to change it. It shows consumers that you care about them and their needs.
Start by integrating client accounts, master details, sales orders, live stock levels at checkout, stock details and all the rest.
Collect and analyse all data automatically to discover in-depth insights and connect with your customers in a professional and calculated manner.