The Importance of In-store Digital Technology and Data Connectivity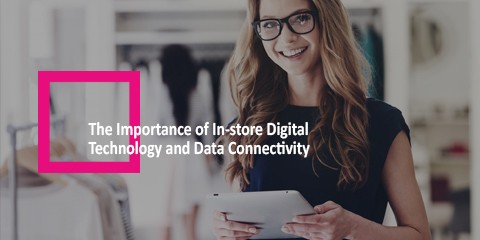 The traditional retail industry is facing increasing pressure from online commerce and digital-driven consumer behaviour. Brick-and-mortar stores are feeling the impact of digital and the hype of automation and AI technologies. It's time for physical retailers to benefit from in-store digital technology to attract more customers and upskill their retail teams.
Personalise the in-store shopping experience
Online shopping has increased customer's expectations to receive a seamless shopping experience. Physical retailers are moving from the 'one-size fits all' approach to embrace a more personalised service and provide an in-store shopping experience that complements the convenience of buying online.
Customers will appreciate retailers that offer an e-commerce alternative and a modern store environment where they can see the offer before purchasing. It requires a multi-sensory experience and a more individualised approach to the process of buying.
Modernise and revamp stores to facilitate more personal connections with the clients and be able to integrate new technologies to assist in customer service and sales optimisation. Implementing retail business management software and incorporating a modern retail POS solution are critical steps to manage consumer data and automate retail operations.
Focus on in-store data connectivity
In-store data connectivity is an advantage for retail stores to keep up with consumers' digital behaviour and use of smart devices. Store connectivity enables access to consumer data that helps store assistants to provide that personalised service.
Buyers benefit from a complete shopping experience by being able to access value-added online services and use mobile payment apps. In the meantime, retailers can leverage feedback from immediate social media interactions with their brand.
Data connectivity is a must for deploying digital technologies that require full integration with centralised systems, such as cloud-based retail ERP software or a retail POS solution. Retail ERP software should provide continuous data streaming from the in-store point of sale to customer service. Look out for connected software with intuitive user interfaces, online functionality and easy integration with critical financial and operating systems.
Contact IQ Retail to find out how our retail solutions can benefit your business.