Cloud-based vs. legacy POS for your Restaurant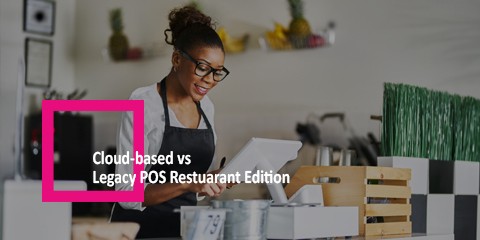 Choosing a Point of Sale solution for your restaurant can be stressful as it is a long-term investment and a critical part of your customer service offering. Therefore, restaurant owners or managers need to think carefully about the solutions they opt for. When looking for a POS system, many aspects will come up but a key question to look at is whether they need to go for a Legacy or cloud-based POS? Before making that decision, it is important to first understand the difference between the two and what they offer.
Legacy POS
Legacy POS systems have been the go to for many years but as time goes on and as tech gets better, there are new things to consider. One such consideration is cost. Legacy systems are more costly to install and to maintain, plus you will most likely need an IT expert for the maintenance and upkeep. An IT expert will need to assist as every single tool will need to be updated manually to secure them against security threats. As a result, updates on the system are seldom actually updated – despite the security threats that come with this option. On top of this, because of it being an on-site solution, managers need to be at the premises to make any changes to the menu, check employee clock-ins and outs, and turnover – to name a few.
Cloud-based POS
In contrast to legacy POS systems, cloud-based POS solutions provide maximum security as they are easy to update and therefore easy to maintain. The easy updating of the system means that the cloud-based POS system can scale as the restaurant does.  Since the data on the cloud-based POS system can be accessed remotely, managers do not need to be physically present to make changes or to implement any updates. When the system is updated there is no interruption to the workflow of the restaurant.
A huge advantage of the cloud-based POS system is the fact that in the event of a loss of internet, the system continues to work. The data is then synced up when connectivity has been restored. This means that there is no loss in sales even though there is a loss of internet.
With the instant nature of the cloud-based POS system, guests can pay their bills quickly and easily, therefore, ensuring a continued good customer experience. This also means that restaurants are able to turn tables faster, allowing for more business.
Which reigns supreme?
Both have merit. The legacy POS solution is however slowly being phased out of the restaurant business due to the easy and instant nature of the cloud-based POS. Therefore, to keep that competitive edge and to keep up with the increasing demands of customers as well as delivering fast, seamless service, the cloud based solution is the preferred option.
The IQ Restaurant point-of-sale management solution gives you complete inventory, staff and transaction control. Designed to interface with waiter stations and multiple transaction areas, it boosts productivity, stock control and performance analysis.