Better HR Management with Cloud-based Payroll Software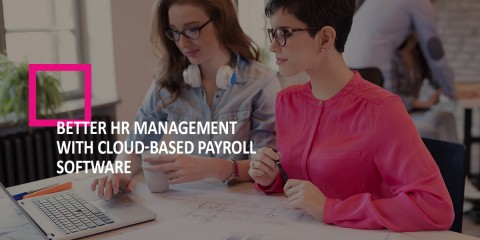 Cloud-based payroll software can assist with simplifying HR related processes, ensuring an efficient, accurate and hassle-free payroll experience. In this blog, we look at the main benefits this solution offers for HR management.
Integrate HR data in one platform
The main advantage of using an integrated payroll and HR software solution is to have all employee information and related activities in a single place. It ensures that HR practitioners have access to all payroll data and processes instead of relying on multiple systems, manual data entries, and ineffective spreadsheets.
If you are using a conventional payroll system installation on-premises, moving to a cloud-based payroll solution can offer enhanced system integration, and more efficient HR data collection, monitoring and reporting. Management can fully automate HR tasks such as employee payroll and tax filing and speed up the process of all the required data reporting.
Secure HR data in the cloud
With cloud-based payroll software, HR data is stored in the cloud on remote servers and not hosted on-premises. The cloud solution eliminates tedious paper filing, complex storage systems, and the risk of data theft, errors, and information misplacement.
With a cloud solution, HR data can be accessed safely and timely and shared with the relevant authorised persons. HR management can further benefit from robust data encryption and automatic security updates, depending on the cloud infrastructure.
Access data on mobile devices
Accessing data on the go via smartphones, tablets and laptops is a significant benefit of cloud-based payroll solutions. It can simplify employee access to confidential information, providing that the company enforces a secure remote access policy for smart devices.
Unlike traditional payroll and HR solutions, a user-friendly browser or mobile interface, as it happens with cloud applications in general, is preferable to a complex, multi-layered conventional system. It is, also, another advantage that can streamline training and daily HR tasks and improve productivity across the business.
IQ Payroll is a fully integrated payroll and HR solution for the retail, distribution and hospitality industries with 30+ years of proven success in the African markets.
Contact IQ Retail to find out how our retail solutions can benefit your business.